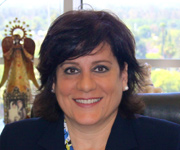 Nora Hovsepian became an attorney in 1989 and is licensed to practice in all Courts of the State of California. After working for seven years at a larger law firm where she gained valuable litigation experience, Ms. Hovsepian made a conscious decision to keep her own practice small, taking on a limited number of cases in order to allow her to provide maximum personal attention to each and every client.
Over the course of more than two decades, Ms. Hovsepian has developed an expertise in the areas of medical malpractice and personal injury. She is also equipped to handle business litigation and contractual matters. She routinely accepts referrals from other attorneys to litigate cases which require her assistance and has earned the respect of clients and colleagues alike.
Ms. Hovsepian obtained her Bachelor of Arts degree in 1984 from the University of California, Los Angeles, in Political Science, with a subspecialty in International Relations and Comparative Government. In December, 1988, she obtained her Juris Doctor degree Cum Laude from the University of La Verne, graduating with high honors as Class Valedictorian.
In June, 1989, Ms. Hovsepian was admitted to the California State Bar and has been a full-time practicing attorney for more than two decades.
Ms. Hovsepian is a member of the California State Bar, the Consumer Attorneys Association of Los Angeles, and the Los Angeles County Bar Association. As a plaintiffs' attorney, she is dedicated to seeking justice for victims of medical malpractice and personal injury by advocating for compensation from responsible parties and their insurers.
She also volunteers with the Los Angeles Superior Court's Alternative Dispute Resolution office, serving as an arbitrator, mediator and settlement officer, and is on the panel of approved attorneys to which the Los Angeles County Bar Association's Lawyer Referral Service sends cases in her areas of expertise.
Nora Hovsepian has also dedicated herself to volunteering for various civic organizations through her involvement in numerous charitable, cultural and political causes.